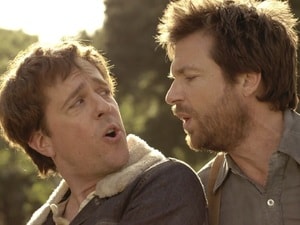 We don't normally shill music videos on this page, but when the music video in mention features Jason Sudekis, Jason Batement, Will Forte, and Ed Helms, how could we NOT show it? It's like some super show called Arrested Office Night Live, and we need to see it NOW! Truthfully, it is just these four miming the leads for the Mumford And Sons song Hopeless Wanderer. And it might be the best thing you see today.
Rather than talk about just how wonderful it is, we are just gonna sit back and let you see for yourself. Also, before you can say it, we will. Will Forte's beard for the epic, all-time win. While we are not quite crazy enough to post it on this site, click here and watch it on Uproxx, just like we did. It'll be pretty clear, pretty quickly why we didn't post it here. Doesn't make it any less awesome, though.
So we have to wonder what Mumford And Sons think of this. Maybe we should tweet it to them. Again, may not be TV news is the purest sense, but every person in that parody video is (or was) a major television star, so I feel like this can be here and it's okay. But can we talk about it, for one second?
The passion, people. Though they play it real at first, the passion by the end is the stuff normal artists only dream of. Red in the face, out of breath, and being more in love with music (and each other) than life itself, these four show us a reflection of the band that is so accurate, at times, I didn't even think it was a parody.
Okay, okay, I knew it was a Mumford And Sons parody, but I had to share it with you, anyway.