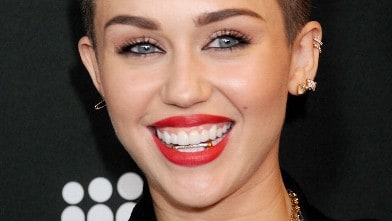 Well, the dust from the 2013 VMAs has finally settled, and what did we learn from the debacle? The sillier and more out-there you are during an MTV performance, the more hype and attention you got from the media AFTER said performance, which is just how Miley Cyrus played it. Though everyone was up in arms about her performance, especially the moments with Robin Thicke, Miley Cyrus has finally talked about her performance, as well as her opinion to how the world reacted to her.
The whole article (and interview) is over here at TVline, but the long and short is, we are ALL over thinking it. She makes the point that some of the biggest stars in the history of the VMAs were well-known for doing the same kind of thing, redefining themselves and pushing the envelope. She cites Madonna and Britney Spears as just two examples of that. She also says she finds it weird people are still talking about it and thinking about it, claiming this is "just me". Just you, huh?
I have a couple things to say about this.
One, that's just you? If dehumanizing yourself for attention is just you, you may want to consider redefining yourself again. This time to someone with some self respect. Sorry to seem so cold, but really, that was a pretty far fall from grace, Miley.
Second, though the performance was, for all intents and purposes, harmless, I find it funny she finds it remarkable that people are still talking about it. Why would she act like that wasn't the entire goal of her performance? In that sense, of having the world and mass media eating out of your hand for a few days, she did play us all. But at the end of the day, in three weeks time everyone will have forgotten this ever happened, and the media will be in to obsessing about something just as silly in pop culture.
It is just how the world works. But well played for acting like it was just you being you, Miley Cyrus. And for acting like you are shocked that people cared. I guess you are a better actress than I thought.