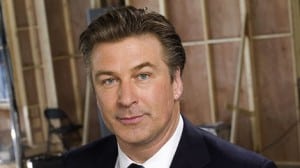 MSNBC has officially launched the first promos for its new Alec Baldwin hosted late-night talk show. Do you even realize how unreal a late night show hosted by Alec Baldwin will be? Badlwin can be funny, scary, informative, snarky, and anything else you can think of.  And if he brings that manic energy to his hosting gigs,  you really could have one heck of a show.
But, let us remember, Alec Baldwin has himself a bit of a temper.   Let's say someone comes on and says something he really doesn't agree with. What do you think would happen then? We are not saying Alec will fly off the handle, but honestly, we are not saying he won't. The reality is, the man can be a wildfire, and you are never sure what direction he is going to burn. That alone will keep us tuning in, night after night, for as long as this show goes.  And that could be six weeks all the way up to sixty years. That is what is funny about the business, there is no perfect model. You just throw something at the wall, and hope it sticks.
So, in essence, right now, MSNBC is throwing Alec Baldwin at their proverbial wall and just hoping he sticks. Time will tell, my friend.
The show starts on October eleventh, so tune in and see how Alec Badlwin does yourself.