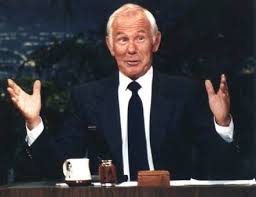 When you watch Conan and Leno, do you realize that none of what they do would be possible if Johnny Carson hadn't done it first, and done it best?  From breaking major talent into the industry, to holding down the late night gig for three plus decades, Johnny Carson was truly a legend in the business, and it seems NBC is working on a miniseries based on a book about his rise to fame and incredible life.
The book the series will be based on, Carson the Magnificent: An Intimate Portrayal, focused on Carson's life from his big break in 1962, to his final show in 1992, and all the tumultuous journey in between. Carson was a loyal friend to many, and was also well known for his marriage troubles, and all this should be well represented in the biopic.
Do you know what time it is right now? Time to speculate! Who could possibly be playing Johnny Carson with the charisma that the actual man had? Honestly, we don't even want to venture a guess as no official announcements have been made yet, but safe to say,  whoever will be playing the enigmatic host, it will be very large shoes to fill.
LA Times has the whole story. We will announce more details on the miniseries as it becomes available. For now, it's just nice to see a legend getting his props.