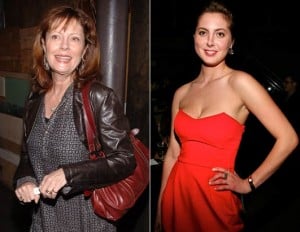 The big thing right now in TV seems to be getting big names stars. In a post Breaking Bad world, it is clear to see that a well-written TV show is the best vehicle an actor or actress can get. Weekly exposure and a regular paycheck. What more could they want? And now it seems NBC is eyeing a comedy written by Susan Sarandon's daughter, Eva Amurri Martino, who is also set to co-star. The show will be called Growing Ivy, and we've got the details.
The main problem here is that it sounds exactly the often criticized Dads, only with a Mom. Growing Ivy will feature Martino as the lead, Ivy Davis, who lets her Mom move in with her in an attempt to work on their relationship, which has been stunted most of her life. Susan Sarandon will play the weird and wild Mom, Francki (oh my God, why did they choose to spell it like that?). So as you can imagine, it will be a series of kooky jokes about generation gaps, followed by loving monologues about how they need each other to survive. The show will start with them being in conflict, and slowly, we will see just how close and similar these two really are.
I like Susan Sarandon quite a bit, so I will give the show a chance. But if Dads stands as any indication, it might not be the best timing for Growing Ivy right now seeing as to how similar the two shows sound. Check out the story over at TV Line.