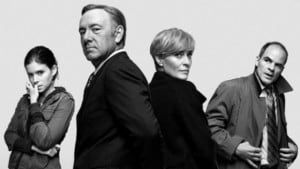 We said it months ago, but Netflix is set to change the way we watch TV. With instant seasons fully available to be watched at ones own leisure, and a incredibly reasonably priced service, it is safe to say that most people we know now have Netflix, and because of shows like Orange is the New Black, the provider is now becoming well known for providing amazing original content as well. But now, with the Emmy win for House of Cards, Netflix has gone from being just a service provider, to being one of the big dogs, and it would only be foolish for the other networks to not sit up and notice this.
Winning an Emmy is instant validation. You can have the best show in the world, but if no one is watching it, or no one is talking about it, little matters. Now, with Orange is the New Black receiving unending praise from critics, and House of Cards being an Emmy winner, it is safe to say Netflix has their foot in the door. Heck, they kicked the door in and started making a sandwich in the kitchen. This means that now, when writers are pitching pilots of TV shows, Netflix will be one of the first places they consider, and if enough new programs start to consider Netflix as an option, what will this say for TV that is still "served" the old fashioned way? Will Netflix render the week to week show, filled with commercials and breaks, extinct?
It is too early to tell now, but we know we aren't the only people wondering this right now. Kudos to Netflix, for not only coming in and changing the game, but winning an Emmy and proving that maybe, just maybe, the game DOES need to be changed, afterall.