I'm a little crunched for time this week (curse you, midterms!), so to make things simpler for me as a writer and you guys as readers, I'm going to do a bullet list for what worked and didn't work for me in "Tinfinity." This was an episode of New Girl that I really enjoyed for the most part, but there were a couple of aspects that could have been tweaked.
What Worked:
- The central focus on Nick and Schmidt's friendship was a welcome change to all the romance that has been dominating New Girl lately (not that I don't love Nick and Jess!). These are two characters that appear so different that sometimes we can forget why they're best friends. However, "Tinfinity," with its great use of the ridiculous anniversary party setting, the hilarity it provided with the goofy college flashbacks, and the honesty and emotion put on display during the hot air balloon scene, reaffirmed that Nick and Schmidt are actually equals, and still possess that strong bond that they forged in their college years. Touching, heartfelt, and funny. I really loved this storyline and would support more Nick/Schmidt centered New Girl episodes going forward.
- Even though, as I just said above, I was happy that the romance/relationship stuff was pushed away for an episode in order to focus more on the friendship between Nick and Schmidt, I still have to say that the scene in which Cece accepts Shivrang's proposal in front of Schmidt (when we see the heartbreak and loss etched across Max Greenfield's face and the reality and rawness of Schmidt's emotions) is one of the best scenes that New Girl has done all season. Although New Girl is one of the funniest shows on TV right now, the strong, emotional character moments are what really make it top-notch. I'm not sure exactly where this engagement storyline will go (aside from the fact that I know Cece is NOT marrying Shivrang), but I'm excited to see what happens.
- Really enjoyed the fact that Jess is still reeling over kissing Nick, as she cannot stop focusing on his mouth and what words and feelings might come out of it (even going as far as not taking a sip from the same bottle of liquor as Nick). Just enough attention was paid to the Nick/Jess relationship in this episode without it taking anything away from the Nick and Schmidt friendship moments. Also, I loved the montage of the weird, strange guys Jess tried to pick up at the bar, especially the guy rubbing the powder on his arms ("It's prescription").
- Nick responding to the discouraging description of his Porta Potty: "Garbage—that's what the nursing home said about my mattress."
- Schmidt popping the kid's soccer ball: "PURE TIN! PURE TIN! Take your soccer ball back to Europe."
- Winston attempting to talk to Jax about something non-sports related: "You watch Homeland? I'm only on the first season, episode two. Don't spoil anything."
- Nick's mustache during his college years: the greatest thing ever.
- "Neither of us is Tom Cruise, or the other guy. We're both Iceman!"
What Didn't Work: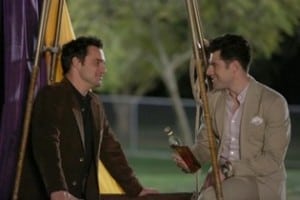 - Jess's attempt to get over her kiss with Nick by hooking up with Jax started off okay, but by the end of the episode (when he stands on the stage, proclaiming that he will love her forever and wants to "put a baby" inside of her), it just became too cartoonish and broad, even by New Girl standards. Worst of all, the whole plot was pretty humorless (I barely even smiled during it), except for a few great reaction shots from Zooey Deschanel.
- Lack of Winston. I know Winston is never usually part of the A-plot of an episode, but I almost forgot he was there with Lamorne Morris's lack of screen time. After last week's episode gave him that great, goofy, hilarious condom storyline, I wish the New Girl writers had given Winston something more to do in this episode than simply stand in the background and utter a few lines.
Overall, another really solid episode of New Girl this week. While nowhere near the heights of "Cooler" or "Parking Spot," "Tinfinity" still provided us with a great look at one of the more underrated relationships on the show (Nick and Schmidt). This episode of New Girl also gave us that fantastic scene between Jake Johnson and Max Greenfield by the deflated hot air balloon, which truly felt like two real best friends opening up and talking instead of simply two actors simply saying their lines. As always, the New Girl cast excels.
Again, I apologize about the weird, shortened structure of the recap this week, guys. Next week's should be back to normal, and I cannot wait to watch, write about, and discuss another new episode of New Girl with you all next Tuesday!