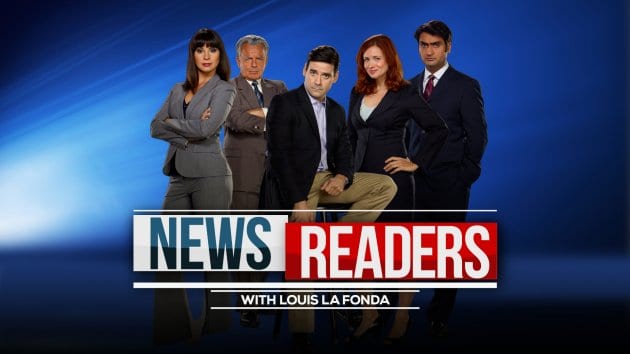 Newreaders is a new comedy spin-off from the creators of Children's Hospital that premieres tonight on Adult Swim and if you're looking for quite a few laughs, then you should definitely tune in to this fictional news program.
Organized into episodes of 12 minutes, Newsreaders stars Mather Zickel stars as Louis La Fonda, the host of the news magazine show of the same name.  Together with his "crack team" of investigative journalists, La Fonda gets the behind the scenes scoop on the news stories you never thought were important (because they aren't).
In the first episode, La Fonda investigates the recent rise in purchases of the F*** Van, which was supposedly created by two college students and then made even more popular by American auto manufacturers.  But beneath this harmless – and enjoyable – invention is a dark secret involving the auto industry's deception.  The result is pure hilarity, from La Fonda's interview of the college students to the matter-of-fact confession by the auto industry representative.  Actor Ray Wise is also on hand as the old timer who loves nothing more than complaining about "kids today".  The show also promises some amusing guest appearances by Ed Begley Jr., Lizzy Caplan, Garret Dillahunt, Dave Foley, Rachel Harris, Dennis Hayesbert, Tom Lennon, Joey McIntyre, Mary Lynn Rajskub, Dan Rather, Brandon Routh, and Jane Seymour.
Newsreaders isn't for the easily offended, but it is for the people who don't mind a little parody in their television.  Even when La Fonda delivers chuckle-inducing lines with the utmost of sincerity, you know that the goal here is just to make the audience laugh.  And laugh you will.
But don't take my word for it, because Adult Swim has released the full first episode of Newsreaders, which you can watch below, along with a trailer that shows a few other segments to come.
Newsreaders premieres at midnight on Thursday, January 17 (technically Friday, January 18th) on Adult Swim.
http://youtu.be/Ty9JnarOyPY