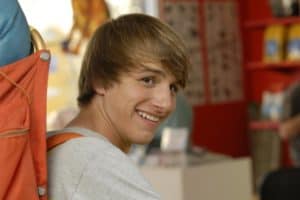 It takes courage for stars in our modern society to come out and admit they are gay, even moreso when the star in mention is famous for working on a wholesome, family network. That being said, it took some courage for former Youtube star and current Nickelodeon star Lucas Cruikshank to admit he is gay during an online Q&A with some fans. But regardless, that is just what he did, and we commend him for it.
Known for playing the annoying, high-pitched, overly hyper Fred, Lucas Cruikshank is known for being one of the first stars to parlay Youtube fame into an actual acting career, and in the process, he opened the door for many other home grown stars to achieve potential fame. And during his Q&A, most of the questions were about his show and pop culture and acting and so on, but then one person asked: Are you gay? To which Lucas responded yes, and then quickly pointed out how odd it felt to say that out loud.
And honestly, the only thing we have to say to him is kudos. Kudos for being brave and honest enough to share that with the world. We know sometimes Disney and Nick don't like when their stars air their sexuality because they like to keep an air of innocence over their branding, but in the same breath, it is 2013, the world is far more open-minded than we give ourselves credit for, and if Lucas Cruikshank feels comfortable sharing that, who is anyone else to judge or cast stones about it?
Plus, have any of you guys seen his show? Him coming out is about as shocking as David Caruso putting on glasses after some witty wordplay.
Regardless, good for him.