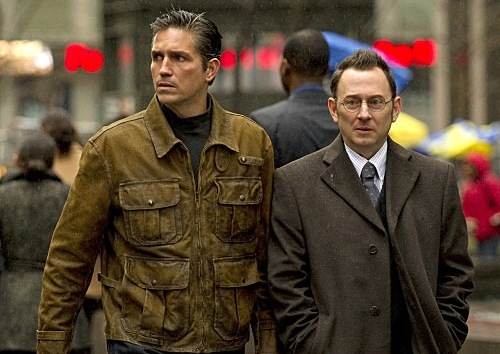 Recently, it seems like J.J. Abrams is trying to start a new show every year. Last year brought us the spy flop Undercovers on NBC, while next year will bring us the midseason FOX show Alcatraz. This Thursday, though, Person of Interest will take its place alongside Felicity, Alias, LOST, and Fringe as a show that J.J. Abrams has brought to television. The million dollar question, though, is whether Person of Interest belongs in the same category as Fringe or Undercovers: is it good or bad?
Well, it's somewhere in the middle, but it's much closer to Fringe, on the positive end of the spectrum. In fact, I would go so far as to say that Person of Interest is probably the best new show of the fall season.
Though it stars LOST's Michael Emerson, Person of Interest is distinctly missing any signs of the supernatural. In fact, an overarching storyline is only hinted at, though the show's premise certainly lends to the possibility of one once the show gains its legs.
Emerson stars as Mr. Finch, a billionaire who was responsible for creating a massive computer system that monitors the public (thanks to the Patriot Act). He's also created a computer program that finds patterns in those masses of data and is able to point out people who will be linked to certain crimes, though without revealing whether they are victims, witnesses, or perpetrators. It's like a less specific Minority Report.
Jim Caviezel (The Passion of the Christ, Deja Vu) plays John Reese, a former CIA agent with a pretty mysterious past — and the ability to kick ass — to prevent these crimes before they happen. Reese is pretty nondescript as far as heroes go, providing the typical brooding badass that you would expect.
Person of Interest's pilot is pretty action-packed and insanely watchable, though it ultimately feels a little predictable. My only real complaint about the pilot, though, is that it doesn't really know how it wants us to feel about the technology our heroes use to prevent these crimes. Are we supposed to be scared of how it invades our privacy, or thankful that it keeps us safe? The show flip-flops between both extremes. Despite its broad, action-based appeal, I think that the show really needs to choose a side before it proceeds; otherwise, what's the point of the show — other than the fact that Jesus Christ and Ben Linus are fighting crime together?
On second thought, that might just be enough for me. B
Person of Interest premieres on CBS on Thursday, September 22 at 9/8c.