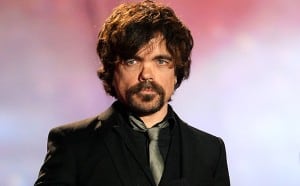 Is there anyone all the world loves right now more than Peter Dinklage from Game of Thrones? Playing the ever-confident Tyrion Lannister, Peter Dinklage imbues a sensitivity into the Lannister family that would be non-existent without him, and to see him in interviews, he is as kind and soft-spoken as his character. For further proof of this, you need to look no further than his recent spot on the beloved children's show, Sesame Street, where he sang about Simon Says. Yes, it is as awesome as it sounds.
We can pretty much assure you that no matter you do or see today, nothing will surpass this moment, so sit back and bask in it like warm sunshine. You will be better for it, and your soul will thank you.
I have sat here and watched this, over and over, realizing it is a mash-up my soul thought it would never see. Peter Dinklage singing a song (with SITAR!) about Simon Says with cast members of Sesame Street. Not only does it feed the soul deeply, but it finally tells us why we always have to do what Simon Says, so really, it is not just awesome, it is profound.
But seriously, everything Peter Dinklage does is somewhat profound on some level. The man is a force of nature with a massive heart, and this simply reminded us of that.