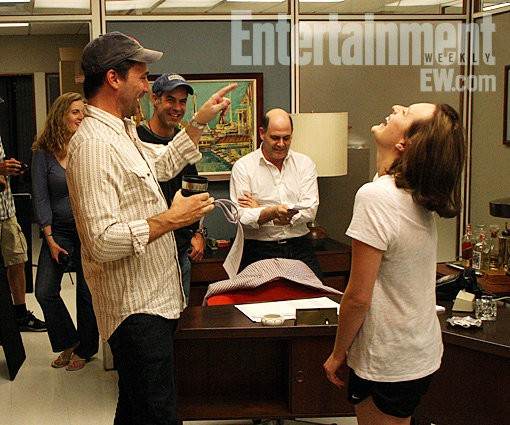 After being postponed due to a prolonged contract battle between its network and its creator, the fifth season of AMC's critically acclaimed drama Mad Men has begun production, with star Jon Hamm directing the first episode. Hamm is the second actor of the series to sit in the director's chair; John Slattery (Roger Sterling) went behind the camera for two episodes in season 4.
Not much is known about where the season will begin, as the series is famous for making leaps into the future between seasons. The last we saw, Don was newly engaged to his secretary, Megan, while his ex-wife Betty's marriage was on the rocks. Peggy and Ken had just acquired new business for the stagnating ad agency, and Joan had revealed that she had opted against having an abortion. Where we'll begin again, only the cast and crew of Mad Men know.
As the picture you see above (courtesy of Entertainment Weekly) indicates, rehearsals for the first episode involved both Jon Hamm and Elisabeth Moss on set in Joan Harris's office, though creator Matthew Weiner was close at hand as well to make sure everything went according to his vision for the show. Also present in the photo are co-producer Marcy Patterson and photography director Christopher Manley.
"I don't remember if we were discussing a scene or Albert Pujols' impending free agency, but suffice to say 'directing' is fun!" Hamm enthused.

Mad Men season 5 will begin in March 2012 on AMC.