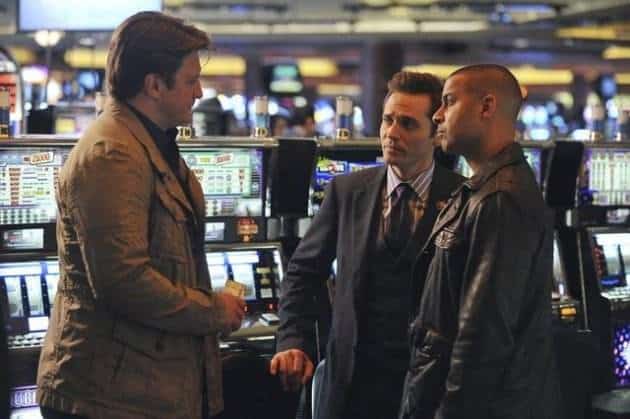 Tonight has been a very good night for Castle fans. ABC has just released the promotional photos for "Heartbreak Hotel" – the Atlantic City episode! – along with the sneak peeks for next week's Halloween episode "Demons". We have also just posted exclusively the first promotional photos featuring Desperate Housewives' Richard Burgi, who will be guest starring in titled "Heartbreak Hotel", scheduled to air on November 7th. In this episode, a murder of an Atlantic City casino owner at an abandoned warehouse, splitting the homicide team in two. Strong leads emerge for the team in both New York and Atlantic City.
As Beckett and Captain Gates work the New York leads together – which I am so looking forward to see; those two are going to kill each other while working together and it's going to be so entertaining to watch – Castle naturally chooses to join the Ryan and Esposito for the road trip to "America's Playground," hoping to help solve the case while throwing an impromptu bachelor party for Ryan.
Let's not forget that this episode will come right after the highly anticipated "Cops & Robbers", so whatever does go down during the bank heist episode will most likely have its falling out during "Heartbreak Hotel".
Castle airs every Monday night at 10/9C on ABC. Don't forget to check out the sneak peeks for next Monday's(Oct. 24) episode.