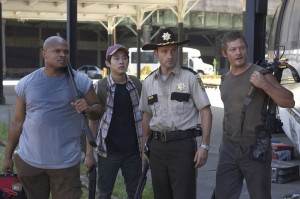 Tonight's episode of The Walking Dead seems to be a return to the zombie horror that "Tell It to the Frogs" surprisingly took a break from. While there seems to be considerable character development going on amongst the survivors tonight, there also are several promotional pictures dedicated entirely to zombies. In fact, the zombies are in the woods. Is this a coincidence?
In any case, the episode is penned by comic writer Robert Kirkman, who created The Walking Dead, so you can expect major violence. Of course, you wouldn't be able to tell it when looking at the simple press release that AMC sent out regarding the episode: "Rick's mission to Atlanta is jeopardized when things go awry. Jim becomes unhinged in camp."
Simple enough, right? Well, check out this video of Jim becoming completely unhinged in camp, taken from tonight's episode "Vatos." When you're done watching that, check out these promo pics below. Be careful toward the end — the tongue zombie is the goriest one I've seen yet!
[imagebrowser id=773 template = flipped]