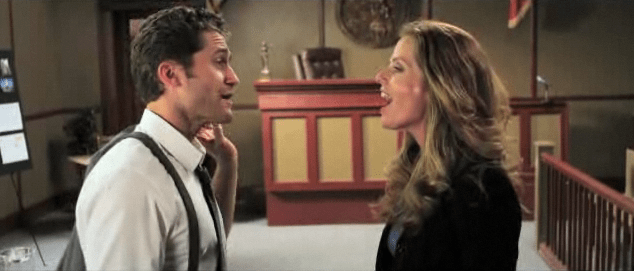 It seems like Rebecca Mader would be a wonderful guest star in just about anything. Earlier this month, the former LOST actress tweeted the executive producers of Fringe a photo of herself decked out in gear from that show. Was she trying to get a role? It certainly seems that way, and a lot of Fringe fans acknowledged that they'd love to see her on the show. Now, it seems, Mader's going for another FOX hit: this time the musical dramedy Glee.
Well, I probably shouldn't say 'going for.' Mader actually just appeared in a pretty funny video, "The Matthew Morrison Story," which was posted on the comedy website Funny or Die earlier this week and is spreading through Twitter like wildfire. While the show did feature several other actor appearances, such as Chace Crawford and Jaime-Lynn Sigler, Mader was the only one beyond Morrison who sang… and she sang well.
So either Mader's one of the best self-promoters in the industry when it comes to expressing interest in guest spots, or she's just a surprisingly good singer who appeared in a pretty great Funny or Die video. Or maybe it's a little bit of both. I don't think anyone's complaining, no matter what it is.
"@BexMader is fantastic," LOST co-creator Damon Lindelof tweeted. "That girl can SING!"
Check out the video below: