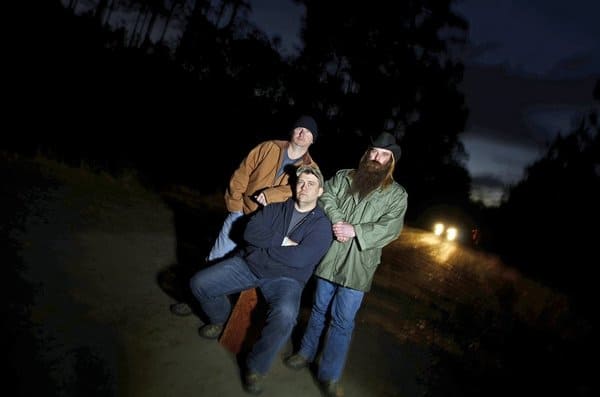 Reality shows that delve into the paranormal are a huge portion of the Syfy programming pie.  Ghost Hunters, Haunted Collector, Destination Truth, the list goes on. And on.  And on.  So does Syfy's slate, already busting at the seams with this type of programming, have room for another one?  If the show in question is Deep South Paranormal, the answer is yes.
There's no sense in avoiding the obvious here.  Deep South Paranormal is a very thinly veiled Duck Dynasty influenced entry—complete with beards—into this genre, but if you're going to copy a trend it might as well be a successful one.  That said, what makes Deep South Paranormal so fun to watch is the authenticity.
Premiering tonight, Wednesday, at 8pm on Syfy, Deep South Paranormal focuses on the paranormal research group of the same name.  A "bayou-based team on a mission."  Both the team and the cases have a distinct flavoring unique to their Cajun roots, an aspect that makes the series both a little more comedic and a lot more creepy at the same time.
Deep South Paranormal is anything but run of the mill ghosts and creeps.  The cases can be anything from swamp apparitions, haunted plantation houses, on to voodoo legends.  The investigators themselves are exactly what you might expect, charming rednecks with disarming intelligence and some downright endearing gullibility.
You are sure to get a chuckle out of watching this group prepare for cases and interact, but once they are on the case they become deadly serious and you'll feel like you've been sucked into a southern fried horror fest.
Deep South Paranormal injects some new life into the genre courtesy of the strong sense of culture and character it possesses.  I found myself enjoying DSP a lot more than the more contemporary Syfy Paranormal shows on that basis alone.  I'd go as far as to say that before DSP, I hadn't realized how bored I'd become with the other shows.  Deep South Paranormal features a much more vivid character palette than other shows in its general class, and the atmosphere really gets under your skin.  A definite watch for fans of this genre.