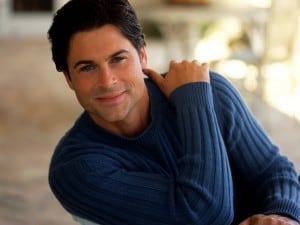 It's crazy to think that Rob Lowe has been acting steadily ever since he was in the "brat pack" in the 80′s. From film to TV, the man has had quite a legacy, but thanks to Parks and Rec, seems he has breathed some new life into his career. This is new life that the networks are noticing, because right now Rob Lowe is in the middle of shooting a new pilot for NBC.
As reported on TV Line, Rob Lowe, who will be leaving Parks and Rec mid season this year, is planning to go directly into shooting the new NBC show called The Pro.
The Pro will be a sitcom about a former tennis star who falls so far, he ends up having to work at a country club to make ends meet. We always love a good story about an underdog needing to climb back up the ladder to success, so we are excited to see just how well this premise will work. Luckily for him with Parks ans Rec, he was working with a genius cast, and the success of The Pro will be dependent on not just him, but the caliber of talent all around him.
For now, continue to enjoy Rob Lowe's wonderful run on Parks and Rec, and we will report more news about The Pro as it leaks to us.