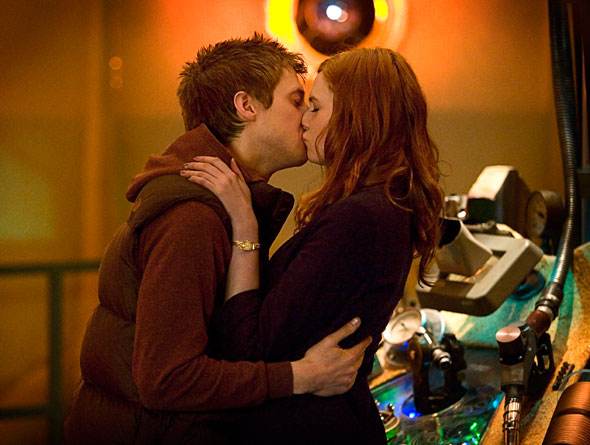 This year's Doctor Who news has been a lot of back-and-forth. Are they? Aren't they? It's hard to tell when Steven Moffat, notable for lying to interviewers about plot details on the show, is in charge. The latest subject of debate: Rory and Amy's status as companions on Doctor Who in series 7.
Though actress Karen Gillan confirmed that Amy would return in series 7 at Comic-Con, rumors are now circulating that Gillan and her co-star Darvill will be leaving the TARDIS in the series 6 finale, slated to air later this year: "There are going to be a lot of tears in the finale. The Doctor will set off in the TARDIS for his next adventure on his own. Amy and Rory will be reunited with their baby Melody Pond and they make a decision to stay on Earth to settle down as a family."
The source, according to DoctorWhoTV, continued, saying, "TV bosses are aware the couple have been popular so this won't be the last you see of them."
While I'm not opposed to the exit of Rory and Amy with reappearances later, some fans are taking issue, citing the less-than-well-received recurrences of former companions Rose, Martha, and Donna after their tenure with the Doctor. However, it's important to keep in mind the cohesive nature of Moffat's overarching plot. If that plot calls for the return of Amy, Rory, and Melody after they leave the TARDIS, you know what? I'm all for it.
Doctor Who will resume its sixth series on August 27, with the midseries premiere "Let's Kill Hitler."