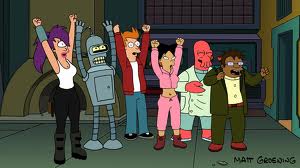 Guys, I need you to give me a moment. I am a little beside myself right now. I know everyone is meant to feel loss from time to time, and it is a part of life,  but I am not ready to lose Futurama again. That show has brought me so much joy and laughter. It took the look of The Simpson's, and just sci-fi'd it until it surpassed that show. Yes, i just said Futurama surpassed The Simpsons. The Simpsons is the mainstream cartoon. Futurama was its cool younger cousin who drive a nicer car and always had a cool one-liner. And now, after last night's final episode, we need to say goodbye. But darn it, I'M NOT READY!
I know some people have already accepted this moment, because Futurama has "ended" before, but not me. Everytime it hath ended before, I had faith. But this time, it just feels so, so, so final. Just feels like we are lowering a friend into the Earth and throwing piles of dirt upon it. It is sad. And also, bittersweet, because we also want to fondly recall all the things we appreciate now as a result of this show.
First of all, John DiMaggio, Bender's voice, is the greatest voice actor who ever lived. From Jake on Adventure Time to the Joker in one of DC's animated movies, DiMaggio has changed how people view voice acting and voice actors, and that is because of his exposure as Bender on Futurama.
Next up, just how expertly and lovingly the genre of sci fi was handled by the show. Futurama showed us a sometimes ugly, complicated world, but still somehow made us wish to be a part of it. THAT is a testimony to the true impact this show will have forever.
But the fact that it's ending is sadder than Fry's dog waiting for him to come home and dying in the streets.Oh wait, there is NOTHING sadder than that moment of Futurama.
Man, Futurama, you did an awesome job, and we miss you already.