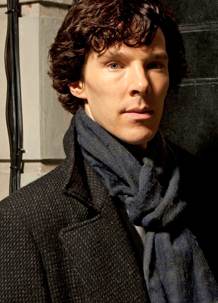 Sherlock star Benedict Cumberbatch continues his busy year by signing on to Parade's End, a joint venture between HBO and the BBC that will produce a five part mini-series adapted from Ford Madox Ford's epic four part novel of the same name.
The novel is set in Edwardian England and covers the time before, during and just after World War I. Cumberbatch has taken the lead role of Christopher Tietjens, whose journey begins in a comfortable and privileged life that is rocked by the war. His character is pretty typical of the era, he has the values you would expect from a top civil servant but as the country takes a drastic change so does Tietjens. War is not the only unstable factor in Tietjens life as he has a pretty rocky marriage, his wife Sylvia is representative of the new age as she is reckless and arrogant and will be played by Rebecca Hall (The Town, Vicky Cristina Barcelona, Frost/Nixon). This reunites the actors who appeared together in the 2006 film Starter For 10 (I would highly recommend this coming of age film which stars James McAvoy).
The talent behind the camera is equally impressive with BAFTA winner Susanna White (Generation Kill, Jane Eyre (2006 mini-series), Bleak House) directing the series and Sir Tom Stoppard (Shakespeare in Love, Enigma) adapting the novel in to five 60 minute episodes. White has directed both period dramas and war themed pieces, even if Generation Kill is of a different era there will be some similarities to the experience of war that White will be able to utilise. The war scenes in the book are particularly harrowing and graphic, author Ford served during WWI and so captures the horror of the battlefield with authenticity that hopefully White will be able to translate to the screen.
The mini-series will be shot on location in England, France and Belgium and like another HBO/BBC venture Band of Brothers it will utilise hundreds of extras for the big battle scenes. Band of Brothers has set the bar high for these kinds of dramas but with the people that have signed on so far behind and in front of the camera I have high hopes for this mini-series. Benedict Cumberbatch has even had to drop out of Joe Wright's big screen adaptation of Anna Karenina to film Parade's End as it was a role that he just couldn't turn down. Along with filming the second series of Sherlock, Cumberbatch also has a yet unnamed role in Peter Jackson's The Hobbit so it looks set to be a busy year for the actor with three stellar projects on the go.
You will also be able to see Cumberbatch on the big screen in Tinker, Tailor, Soldier, Spy which has a cast chock full of British talent including recent Oscar winner Colin Firth, Gary Oldman, Tom Hardy, Mark Strong and Boardwalk Empire star Stephen Graham. He is also in Steven Speilberg's War Horse, which is another WWI film and will be released at the end of the year and has Oscar written all over it. It is always good to see such a talented actor getting offered such a slew of excellent projects and I look forward to seeing more of Cumberbatch on both the big and small screen in the coming year. Benedict Cumberbatch has been acting on the big and small screen for some time now but his role in Sherlock has really propelled him in to the spotlight, which is something from his talented body of work that is well deserved. Rebecca Hall is another favourite of this new generation of actors that has come from Britain in the past few years and she has also proven to be versatile in the film roles that she has chosen. The role of Sylvia sounds like a strong and antagonistic part and I look forward to seeing her opposite Cumberbatch in Parade's End.
Parade's End feels like it can have the same grand scope and excellent performances that the recent Any Human Heart had, which spanned a much larger time frame but also used a war (World War II and the Spanish Civil War to some extent) as a back drop to act as a catalyst for the protagonist. This is definitely a project that will be highly anticipated and we will hopefully have more news of the project as it goes into production.
Is this a mini-series that you will be interested in? Are you looking forward to seeing more Benedict Cumberbatch this year? Let us know in the comments below.