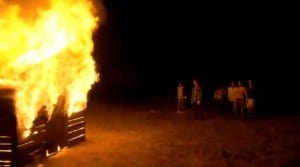 I like the NBC faux reality show Siberia. I think it is intense, raw, and the idea of contestants on a reality TV show being killed off one by one is very appealing to me. Plus, the show does a great job of ratcheting up the tension each week, adding layers upon layers of tension and suspense, and judging by the preview for this week's episode, it looks like things are only going to get more insane for these poor, trapped souls.
So for those not in the know, Siberia is a show about a group of contestants who get sent off to Siberia to learn to survive off the land. It is done very much like any Survivor show you have seen before, but they add one element those other REAL reality shows don't, and that's death. Week by week, contestants are being hurt, maimed, and killed off, with no idea what is actually happening to them. Think Lost meets Survivor and you have a solid idea. And for anyone who has ever watched reality TV and secretly hoped one of the awful, vapid people on the show would slip off a cliff or get attacked and eaten, this is the show for you. What works is just how convincing it all is, the show is done quite well, and you sometimes even forget this isn't real reality TV.
And it looks like, this week, more details about what is happening to these survivors will emerge, again leading to the one blistering question that haunts them all. Why is this happening to us?
Maybe this week they will get some answers. Or one more of them will die. We bet it's the second one.