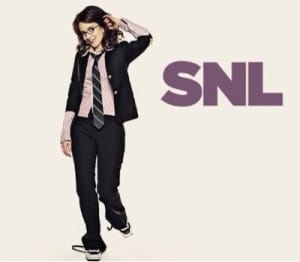 We are at a weird point with Saturday Night Live. On one hand, we have the new cast, which often times introduces the world to new funny people we eventually rather enjoy. On the other hand, we have the new cast, and as much as that may bring some people in, that is also enough to scare some people off. But SNL is genius, because they knew it would be hard to get people pumped about the new cast, so what did they do? They brought in one of their greatest cast members and writers ever, Tina Fey, to host the season opener.
So how was the episode?
Well, it was pretty much everything you suspect from a SNL season opener with a new cast. Some of it worked, and some of it didn't, but overall, you cannot really fail when bringing Tina Fey in to do anything. The woman is remarkable, quick-witted, and incredibly bright, so generally, when SNL gave her the chance to shine, you could definitely feel that Tina Fey energy, which was nice to see in that format again.
So how did everyone do outside of Tina Fey? Well that, my friends, is a little tougher to answer.
If you are asking if any new cast member stood out, the answer is no.
There were some genuinely funny bits, but there were a few that fell flat, too. What needs to be taken into account is how comedy is a science, and these are all the players still trying to get the formula down. I think the key to appreciating this season, will be giving the new cast some time to find their footing.
In the meantime, was great to see Tina Fey back on the stage we all fell in love with her on.