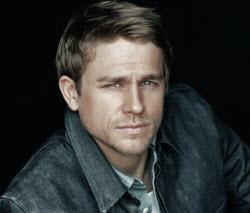 As a big fan of both Charlie Hunnam and Sons of Anarchy, I'm not really sure how to feel about this news. On the one hand, being cast as the lead of the 50 Shades of Grey movie which is assuredly going to make bazillions of dollars is pretty cool for the young actor, as he was up against some pretty steep competition.
On the other, it's the 50 Shades of Grey movie. Yes, I did in fact read the book as I felt I had an obligation to my job as a pop culture enthusiast. It was exactly as absurd as I expected, and when I heard it was going to be a movie, I was confused. The book barely has a plot, and you can't really consider endless, increasingly kinky lovemaking as a plot, nor can you show it onscreen, lest you rate the movie NC-17.
But this is a big get for Hunnam, I just hope the movie isn't so ridiculous that it actually ends up hurting his career. It's also a big role for Dakota Johnson of the short-live Ben and Kate, as she's gotten the role of Anastasia. Cool for us to see two TV actors get big movie parts over more well-known Hollywood actors. But Hunnam at least is starting to head toward leading man status with films like Pacific Rim.
What do you make of Hunnam's casting here? Will this be good or bad for him? Will you be able to look at him the same way SOA again after seeing the movie?