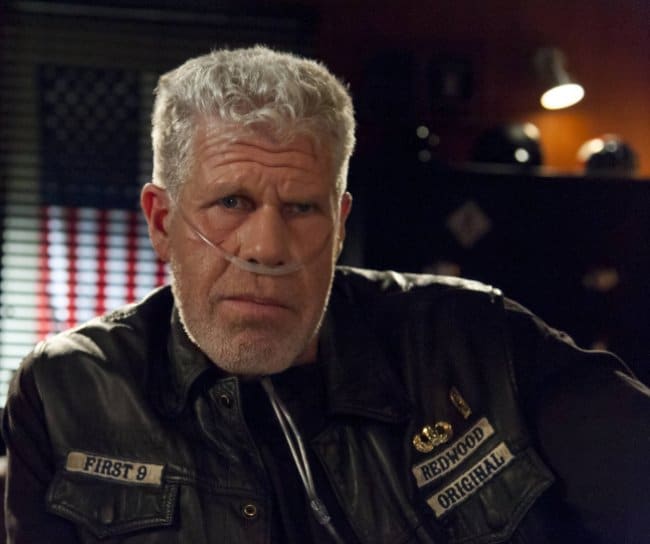 Sons of Anarchy has returned and the reign of Jax Teller has begun, but it is a rule that involves a secret deal with the CIA and secrets that could potentially tear the SOA apart. Let's take a look at what went down on Sons of Anarchy "Sovereign".
Appropriately, we start out with the Sons on the road at night with Jax narrating poetically about life on the road, and the strange peace that comes with the late night runs.  Finally it becomes clear Jax is writing to his sons in a notebook as the scenes shift to different characters.  We get our fist look at Jimmy Smits Nero putting the boots to Gemma.  Yeah I went there, there is no other way to do it.
We return to the road as the Sons flank filthy Phil driving a panel truck, obviously filled with guns, while "People keep on talking" provides the soundtrack.  The Niners lay in wait and fire on the convoy, eventually upturning the truck and catching it on fire,  Phil, and the guns, are safe this time, but it is obvious that the Sons of Anarchy and The Niners are in full on war.
Morning after.  Jax fills Tara in on the events of last night and tells her he wants her to carry a gun due to threats from The Niners.  Tara tells Jax she can't attend Piney's service because she is going to be training her replacement.  Her hand is still in a cast, so she has not healed completely.  The scene ends with Tara telling Jax she is putting the kids in daycare, a move they both predict will rile Gemma.
Speaking of Gemma, she wakes up naked in the same room we saw her in earlier.  She gets to her feet as Nero enters the door.  She finds a gun and pulls it on him.  The two other girls are awoken by a third women and told they have morning "dates".  This prompts Gemma to ask him if he is a Pimp.  He prefers to call himself a "companionator".  Nero and Gemma have matching chest scars, that little detail alone tells you this is the beginning of a long relationship.
Clay, Chibs, Juice, and Tig are at Clay and Gemma's house, moving his stuff out. We go back to Nero's place and see that it is indeed very upscale,  Nero is very cordial and easily charms Gemma. She leaves in a cab but not before giving Nero her number.
Opie is in the Cemetery as the Sons hang nearby.  Jax talks with Opie privately, Opie still feels the situation is not being handled honorably. In his opinion, it should be Clay being buried today.  Jax apologizes for asking Opie to be his VP and sit at the table with Clay.  Opie promises him that he is not going to turn in to Clay, Opie says he just doesn't want to turn into Jax.
Gemma arrives home and talks to Uncer, who informs him that Clay is there moving his stuff.  Clay is on oxygen and moving very slowly.  Gemma helps him find a ring and tells him not to take the photos.  Clay asks to talk for two minutes and Clay Tells her he deserved what happened.  He talks about the difference between him and JT, and ends his tirade by telling Gemma that he will keep her role in JT's death a secret.  Veiled threat?  More than likely, but Clay seems so sincere.  Definitely a classic Sons of Anarchy moment.  Will Clay really take the secrets to his grave, or is he just telling Gemma that he still holds some power.  He tells her he loves her and always will.  She begins to sob and he approaches her to comfort her but she takes him down easily with a single elbow, showing how frail Clay has become.  "Don't you ever touch me again." She seethes to him as he gasps for air on the floor.
Visit our Sons of Anarchy forum and weigh in on your favorite part of the premiere.