Visit our Sons of Anarchy forum and weigh in on your favorite part of the premiere.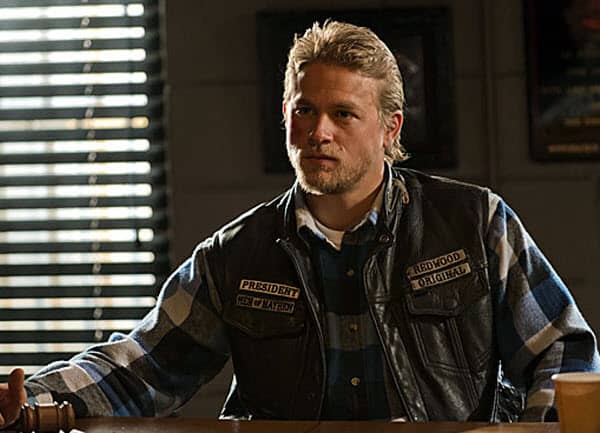 Jax meets with Romeo and Luis and tells them he needs a sit down with Damien Pope in order to resolve the problems with The Niners.  Romeo says that he can help with Bobby Elvis, but he needs to inform him what is going on.  Jax tells Romeo he has leverage with the knowledge that he is a CIA operative.  They drop off Bobby Elvis and part ways, but it is clear there is tension forming.
At the clubhouse, Roosevelt shows up and questions the sons about recent home invasion robberies, and the reported attack on their 'auto parts' shipment. It is clear he feels The Niners are behind this in retaliation and warns them against bringing the violence to Charming.  On the way out he reassures Juice that he won't out him.
At a rail station we get to meet Damien Pope, who meets with some of The Niners.  He is upset because he told The Niners to lay low and instead they are stirring up things with the Sons of Anarchy.  It is revealed that Leroy has been killed at Pope's command, his body dismembered and thrown in a pit. Definitely one of Sons of Anarchy's more graphic moments. A new Niner is placed in charge.
At the reaper table Jax announces that the Nomads of Sons of Anarchy are disbanding, and three of them are there to join the Charming group.  Also Filthy Phil is now a full fledged member. They are voted in unanimously.  Jax announces that he is taking Bobby as vice president, and that Opie will be stepping away from the MC for a while.  Chibs seconds the nomination and Bobby is the new VP.  Clay stuns the meeting by admitting that he killed Piney.  He manages to spin a story where he killed Piney in self defense, claiming Piney was drunk at the time and tried to kill him over the Cartel business and drug running.  He claims he blamed it on the Cartel to protect the Sons of Anarchy business.  He also tells the Sons that it was Opie who shot him.  Tig is very unsettled, since he killed Veronica Pope and attempted to kill Leroy in retaliation for Clay's shooting.
After the room clears, Jax and Clay have a one on one.  Jax is suspicious of Clay's motives and what's to know what the play is.  Clay says there is no play, but he also wants to know why Jax didn't kill him.  Clay senses there is something more to Jax not killing him,  Jax admits he needs him  for the Irish, but mentions nothing about the CIA.  Outside Gemma shows up and is wondering why the kids are in daycare, she also can't understand why Jax did not kill him. Nero gives Gemma a call to check in tells her to call him anytime she needs him.
At the railroad,  Pope's aid August prepares Darnell, the new leader of The Niners for a meeting with the Sons he instructs him to shoot Jax when he shows up. Jax arrives with Bobby, Chibs, and Happy.  Jax is upset Damien Pope isn't there, but begins to negotiate with Darnell who dutifully pulls the gun August gave him and points it at Jax, but the gun is empty.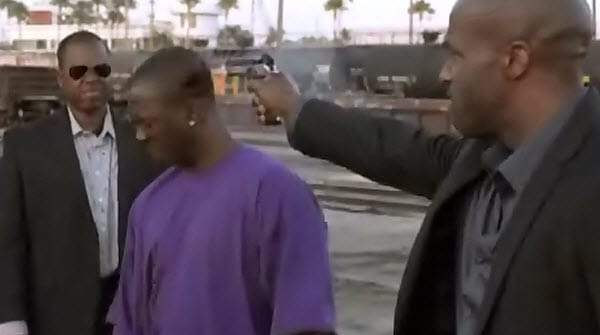 August separates the resulting fist fight, kills Darnell, and appoints a new Niner as leader.  He tells the new leader, in front of the sons, to tell The Niners the beef with Samcro is over. August tells them that Mr. Pope will be reaching out to them soon.  As Pope's crew clear out, Jax surmises the meeting was to tell them that Damien Pope decides who dies and when.  This is far from over.
Back at Gemma's, Clay is looking through some photo albums as Juice brings out the last of his stuff.  Tig shows up and confronts Clay over the lie he told.  He tells Clay that he has murdered an innocent girl based on the lie.  Clay tries to claim the greater good angle.  A call on Tig's cell phone interrupts them, he learns his daughter Dawn was stopped for DUI, but the arresting officer has MC connections and offers to let her off if Tigs will come pick her up.  He makes arrangements to go pick her up.  On his way out Clay asks if they are good, and Tig says he doesn't know.
At Roosevelt's office we learn that there are witnesses naming Jax and Chibs in the shooting on the highway. Tig has also been identified as the killer of Veronica Pope.