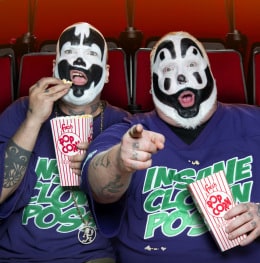 If you are like me, you cringe when you hear or see the Insane Clown Posse. They just seem a little silly and asinine to the most rational of us. But what if I told you the Insane Clown Posse have a really funny show on Fuse right now, where they make fun of stuff, and do so rather well? Would you believe me? Well guess what, heck may have just frozen over, because they do, and I am even more shocked about it then you.
You do remember Mystery Science Theater 3000, right?
That amazing show where the crew of a space ship got together, watched terrible old B-movies, and made fun of them in real time? And do you remember how stupid, yet awesomely funny the show was? Well, someone on Fuse decided that it would be a good idea to get the Insane Clown Posse and have them do their own version of that, but instead of bad movies they make fun of music videos and pop culture stuff. The reality is, it sounds like the worst idea ever. ESPECIALLY coming from people like me who are the furthest thing I could be from a fan. But, I sat and watched it thinking it would stay on my TV for four minutes, and in the shock of the century, it is ACTUALLY good and seriously funny at times.
I know, you all want to take me outside and beat me with bottles of Faygo rootbeer, but I can confidently tell you that if you watch the show once, you will be surprised at just how astute it is. The two clown dudes (yes, I refuse to call them by their silly names) do a decent job at just kind popping off at the mouth about whatever they see, from new Beyonce to the classic video for Take On Me from the 80′s.
So why does this work when it should sink immediately?
Well, first thing, insane Clown Posse don't care. They are not so much trying to be funny, and that is why it works. They are just bantering, and the banter is so stupid and amusing, it just works. I know, I know, I am as scared about liking it as you must be reading about me like it. But I am writing this for a reason.
Give the show a chance.
I know, last thing you want to do, but I can confidently tell you you might just be surprised at how funny these two are. Well, funny and stupid, but that is what makes it work so well.