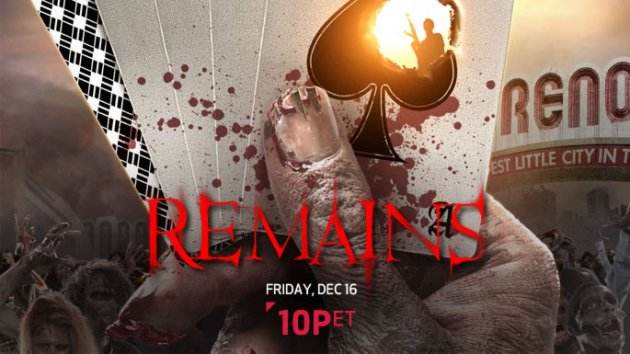 Tonight, Chiller brings the TV movie version of Steve Niles' Remains to your screens. Niles is perhaps best known for creating the graphic novel 30 Days of Night. Remains is based on another graphic novel by the writer.
The set-up for Remains is your average zombie back-story: in an effort to destroy all nuclear capabilities, a "peace bomb" is detonated in the Nevada desert. Naturally, everything goes horribly wrong. Instead of destroying nuclear weapons, the bomb turns normal people into flesh-eating zombies. Some people, however, were inside lead-lined enclosures when the bomb went off and they remained human. The remaining people eventually team up in a vacant casino in Reno and try to fight off the horde of zombies in order to survive.
Remains marks Chiller's first original movie. It stars Grant Bowler (True Blood, Ugly Betty), Lance Reddick (Fringe, Lost, The Wire), Miko Hughes (Pet Sematary) and Tawny Cypress (Rescue Me, Heroes).
Watch a trailer for Remains below and tune in to the TV movie on Chiller at 10:00 p.m. ET.