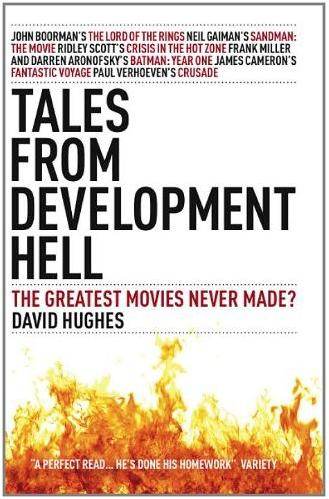 You might be asking yourself why a television blog is reviewing a book – "Tales from Development Hell" – that revolves around movie scripts. Well, the truth is that TV is part of the Hollywood business machine. The development of a TV show/script might not be completely identical to that of a screenplay, but there are certainly similarities. In any event, the subject matter of "Tales from Development Hell: The Greatest Movies Never Made?" (the updated edition) is interesting enough for anyone fascinated with the Hollywood way of doing business.
Basically, here's how a script gets developed in Hollywood: a screenwriter drafts a script, perhaps on spec (without prompting) or at the rest of a director/producer/studio. The script goes through a few drafts, with some people providing their notes along the way regarding changes to the script. Then the movie is cast, locations are scouted and film starts rolling. Right? Wrong. At least, for some movies. In fact, if you read this book you will seriously ask yourself how any movies get made at all.
What actually happens – in some/many cases – is that scripts languish for years in something called "development hell". In some cases, there are creative disagreements between screenwriters and the studio/director/producer. In other cases the project changes hands. In yet other cases, for whatever reason, the script goes through 50 rewrites with 50 different screenwriters and then still never sees the light of day for whatever reason.
Let's take, for example, the tale of Lord of the Rings. Do you have any idea how many years various producers and studios were trying to get the books made into a movie before Peter Jackson's trilogy? Basically from the time when Tolkien was still alive. Did you know that, at one point, the Beatles (yes, THOSE Beatles) actually wanted to star in a film version of Lord of the Rings? Do you know why the fourth Indiana Jones film was delayed for so long? Do you know why Neil Gaiman's Sandman comic series has never been made into a feature film despite repeated attempts?
David Hughes takes the reader on the incredibly complex journey from the first draft to the actual film (assuming there is one and the script isn't just collecting dust in a file cabinet somewhere). He charts the journeys of scripts that never got made into films, including "Smoke and Mirrors" (which at one point had Michael Douglas and Catherine Zeta Jones attached) and the remake of "Fantastic Journey". Then there's the scripts that do eventually get made into movies, like "Tomb Raider", "The Aviator", or "The Dark Knight". Hughes quotes screenwriters, producers, directors and studio personnel to provide an incredibly detailed and comprehensive look at the development hell some scripts have gone through. From full details about the storylines of early scripts for Indiana Jones 4 to explanations of why only The Aviator was made instead of other Howard Hughes projects, this book has everything to explain to you the business of Hollywood.
And remember, "Hollywood is a business rather than an artistic endeavor", as Hughes describes. Hughes is upfront about his bias towards screenwriters, seeing as he is one himself, but that doesn't cast doubt on his book. Yes, the poor screenwriters seem like they were on the losing end in most of these cases, but a lot of people have lost out while in development hell, including producers, directors and stars, as Hughes describes. If you're a budding screenwriter who wants to know what you're up against or just someone who is interested in the behind the scenes dealings of Hollywood, then this book is definitely for you.
"Tales from Development Hell" is published by Titan Books and is available on Amazon
.