Tone can be a tricky thing to nail down. That thought sprung to me immediately as "Destino" began. It wasn't the first time I've had problems with "The Bridge" (read any of my other reviews), but up until this moment even with its character/plotting problems, I always felt like I understood what the show was trying to convey. While "Destino" doesn't change the tone in any drastic measure, it definitely unintentionally chips away at its core. This early scene involves two characters we don't know too much about and aren't emotionally connected to in any way. It's awkward, clumsy, and very stupid. Not interested? Alright then, time to discuss "Destino."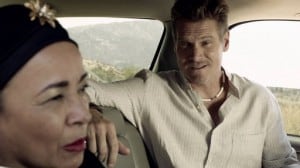 So that first opening scene, what not to say? Before I destroy it, let me point the positives. I was very much intrigued in the moment as Graciela Rivera (aka Erykah Badu) offered Ray her proposition. Also, in defense of Ray's character, at least he breaks much needed comedic output in this drama that's very much in need of humor. But let's face it, that scene was completely terrible. We don't know enough about those characters for it to mean anything. It tries to give us a strong image of who's in command, but in the most unsubtle way possible. The humor is not natural in any way, it's forced and ruins the sense of dread "The Bridge" is trying to build. I'm completely for humor in even the darkest drama, but it must jive with the mood not break it. On its own, I found this scene to be pretty interesting. Taken as a scene that's a part of a whole, it just doesn't fit in the world that has been created and presented to us. While I'm sure Graciela was satisfied after this scene, I was emphatically not.


But that was just one scene in "Destino," and while I think it ruined much of the stark, gritty mood the "The Bridge" has built so far, the rest of the episode was a big improvement on last week's cheap, emotionally manipulative "ID." "Destino" had a very centralized main story of Sonya and Ruiz's chase to find and eventually capture the dangerous Jack Childress (Chris Browning). I'm weary of shootouts on TV shows mainly because they don't take the time to get in any of the characters' heads. This one worked well in contrast to others by creating a mix of tension and character growth simultaneously. It started off with a shock in Manny's death (The braces were finally off, NO!!!), and ended with a somewhat big reveal (He meant to kill Marco). Knowing we have five more episodes left, I'm glad or at least I think I'm glad (does that make sense?) that the show isn't taking the crazy self-righteous killer angle. "The Bridge" has relied on way too many crime clichés at this point and I'm hoping it doesn't rely on that one for its finish.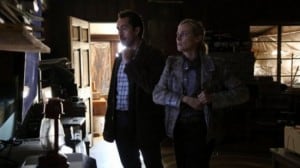 Because the Childress chase took most of the episode, the side characters got less screen time which made for a tighter episode. It felt well packaged with no unnecessary scene of hackneyed plot setup. Danielle Frye was on the job, but not able to work as he struggled with being on the wagon. Lillard sells the scene well with his constant shaking and small tics. I mentioned last review that a show based around Frye and Perez sounds much more appealing than the show at hand, but hey we have to stick with what we have. We saw Alma Ruiz make a big move in telling Marco that at this point she doesn't want him back and then later sleeping with her co-worker Kenneth Hastings (Eric Lange). There scene together on the bed was probably the best scene of the episode. It felt both real and personal, with both characters taking their time and thinking this complicated decision over before jumping in. It felt sophisticated for a show that usually isn't.
Novel Notices
- Man oh man did Manny get shot. His head was mashed up Cronenberg style.
- Det. Cooper (aka Southern Ron Swanson) playing a guitar drinking some booze for his fallen friend? I mean, we never saw them bond, so why should we care?
- I didn't cover the Linder plotline but in it we saw him being offered another girl to take. The girl turns out to be the girlfriend of a gangster, hilarity ensues.
- I'm still going with Hank as the killer. Put it on the board!!!
"Destino" = C
* I thought the episode was just okay, but I would love to hear what you thought. Sound off in the comments and have an A1 day.