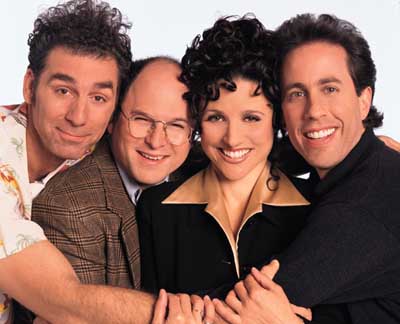 Remember all the strange and wonderful fake movies they would name drop on the comedy classic, Seinfeld? Well, they're real. Okay, relax. Not the movies themselves, but some crafty internet folk have made the fake movies into real posters with the help of Photoshop, and some of the results are nothing short of amazing. I won't lie, Rochelle Rochelle always sounded like a really good movie to me. And now it looks like one, too.
So there were two that always stood out to me. The above mentioned Rochelle Rochelle, and Chunnel. For whatever strange reason, my mind never forgot about those fake movies. They just seemed so, so REAL. So to see them as fully executed Hollywood style movie posters is a bit of a trip. It is like some wall between reality and art breaking down. And honestly, these posters pretty much seem spot on for what Hollywood would give us right now. Ofcourse, Channing Tatum would be in Deathblow. We can't even pretend that's NOT perfect.
Also, can we take a moment to point out how brilliant the idea that Lars Von Trier would direct Rochelle Rochelle is? I know the director's work well enough to know no one would walk away from that movie unscathed, which may not have been the direction Seinfeld was going, but makes this work that much better on some entirely different levels.
This is exactly what we love about the internet. It is filled with creative nerds who have fond memories of the same nerd things we do, and they also have the drive to keep those memories alive, in fantastic and hilarious new ways. Check out the full story and the rest of the posters here at Uproxx.
Now if you'll excuse me, I need to go try to download Chunnel.