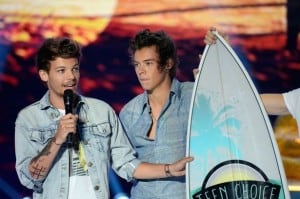 Man, there is nothing that makes you feel quite as old as watching the Teen Choice Award when you are no longer a teen. Everything about it, from the youthful energy to the outfits just makes you feel like an elderly person, walking with a cane, yelling for all these kids to get off your lawn. Half the acts you don't know about, and the other half have you rolling your eyes. Thing is, it is, technically, TV news, so we do have to cover it as best we can. So now, to spare you the horrors of having to had witness it, we will give you a very brief run-down.
Okay, so literally, all I can find out about this show was the one of the One Direction guys twerked. It is like, major news. Rather than get into discussing the finer points of twerking, how about he look at the whole Teen Choice Awards as a sign that we are all too old to understand any of what is going in with today's youth, and rather than get upset about that, shouldn't we just take pride in it? I know I do.
Everything is generational. And last night, the cool, mature generations were watching Breaking Bad. The youngins were watching the Teen Choice Awards, and honestly, at no single moment in my life have I been as happy to be getting old as I am at this exact moment.