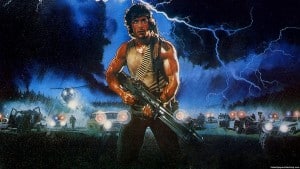 The thing we love most about TV here at TV Overmind is, anything goes, and anything can happen. Just last year I was telling people how I wished reality TV contestants would have a show where we get to watch them die, and this year we get Whodunnit and Siberai. Now, there are some SERIOUS talks about a potential Rambo television show, the best part being that Stallone is rumored to actually be involved with it, with the more serious rumors saying he may be reprising his role and not just cashing in on the name. A Rambo TV series? Um, yes please?!
Deadline Hollywood has the whole story, but the long and the short is that Sylvester Stallone has been in talks to reprise his role for a Rambo show, though any details of the actual story or how it would play it are still unknown to us at this point. I think it would also be safe to say that show would need a network like Netflix or HBO to really pull off the maturity of the story lines that would need to tell without losing the feel for what makes the character so great.
The reality is, with no details yet outside of rumors, we can only speculate, but you know how much I like to do that. I say we put Rambo in space, where he is forced to fight a breed of advanced space gorillas who are intent on taking over the galaxy.
I also think it should be on SyFy.
Sorry, am I dreaming out loud again?