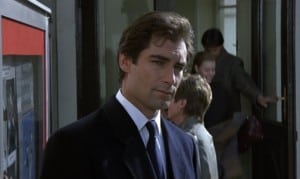 You do remember Timothy Dalton, right? Arguably the worst James Bond who ever existed. Not that he did anything wrong as Bond, he just didn't bring anything fresh to Bond, either. Plus he has that weird chin that looks like someone poked it when he was being born. Anyway, he is starring in the new Showtime series, Penny Dreadful, and it sounds way more interesting than it probably should. It also sounds awfully weird, like, "I don't know what to say about it" kind of weird.
As reported over at Deadline Hollywood, Dalton was just taken on board the Showtime show, which is described as a "psychotic horror series featuring some of literary's most iconic figures embroiled in Victorian era London." Okay, wait, what? I don't even want to try to assume I have any idea what that means, but all I can comfortably say is that it sounds like something Alan Moore would have come up with for a comic book. One of those "adults only" comic books, too.
*Shudders
Penny Dreadful was also a horror movie from a few years back, though how this show connects with that movie is still unknown to me. All I know right now is Timothy Dalton, AKA the worst Bond, is going to be starring in a show where weird stuff happens, and he may get his freak on with characters from classic fiction. I know it all sounds too weird to be true, but seriously, this is happening.
Normally I have much higher word counts, and I am sorry this is so sparse, but really, I have no idea what to say or think about this right now.