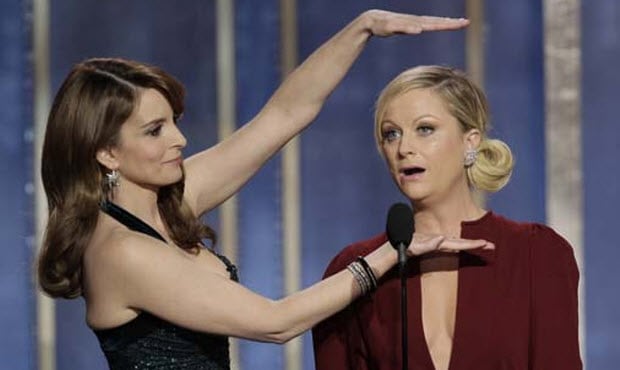 I feel like the Golden Globes make headlines more often than not for their hosts, rather than their actual awards. First it was the controversial Ricky Gervais, now it's the lovable duo of Amy Poehler and Tina Fey. The Golden Globes were so impressed by their universally heralded hosting gig last time, that they want to have the pair on lockdown for the foreseeable future.
Yes, that's right, Amy and Tina will be hosting the show for both 2014 AND 2015, which I'm not sure has happened before in a major awards show. Via TVLine:
"Tina and Amy are two of the most talented comedic writer/performers in our business and they were a major reason the Golden Globes was the most entertaining awards show of last season," said NBC's alternative programming president Paul Telegdy in a statement. "We're elated they wanted to host together again and that they committed for the next two years."
I mean, getting paid to host an awards show with your hilarious best friend is about as good as it gets, so I can hardly blame them for signing up again. And the Golden Globes actually get people to tune in to see essentially a Fey/Poehler stand-up show, which will be more entertaining than the awards themselves, certainly.
Is this a fun idea or too much of a good thing?