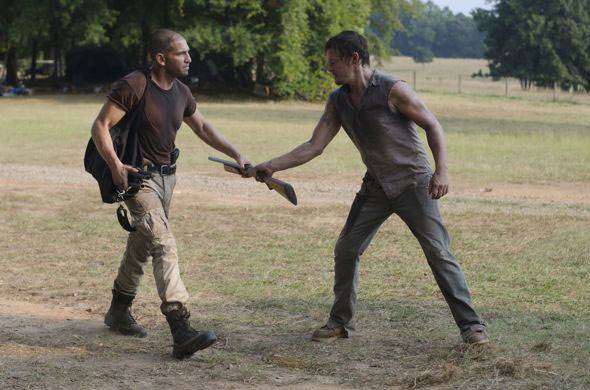 The Walking Dead is a great series, though it's received its fair share of criticism over the past few weeks due to slow pacing. Well, critics be silenced! In tonight's episode of The Walking Dead, titled "Pretty Much Dead Already," tensions finally come to a head, providing the show's best episode since it premiered back last October.
It's the last Walking Dead episode until February, so you know that it has to go to hiatus with a bang. Several bangs. And while we can't tell you what exactly it is that happens in the episode, we can tell you that it's an emotionally satisfying finale to the first half of season 2. It's a midseason finale that will leave you wondering where exactly the show is going to go from there.
The characterization in the episode is brilliant, with characters like Shane, Dale, and even Hershel finally getting time to shine. Hershel in particular plays a big role; don't be surprised if your opinion about the isolationist old farmer changes drastically within the hour that it takes to watch the episode. In fact, be surprised if your opinion doesn't change.
The promotional photos from the episode have promised a shootout in "Pretty Much Dead Already," as well as an argument between Rick and Hershel. That argument, seen in this clip, regards just how long Hershel will let the survivors stay on the farm. He gives them a week to move on, but will Rick be able to convince him otherwise? That's one of the major points of the episode.
As you might expect, The Walking Dead poses the best cliffhanger of the series right at the end of this episode. By the time the credits start rolling, you'll be longing for February 2012. I know I am.
You can check out my full review of "Pretty Much Dead Already" here on TVOvermind tonight after the episode airs on AMC at 9/8c. I can't wait to hear what you think.