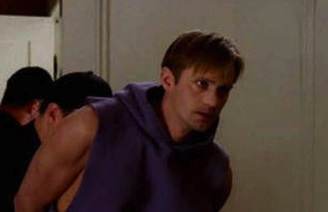 Last week's episode of True Blood saw Sookie and Eric kissing, but Bill should be arriving very soon to break up their budding new relationship. After Pam showed Eric her decomposing face, the Vampire King agreed to capture Marnie to get answers. Unfortunately, while she kept having flashbacks to the witch in the 1600s, Marnie wasn't sure how to reverse the spells against both Pam and Eric. Pam, desperate about the situation, blurted out Eric's location to Bill and he ran off to Sookie's house. In tonight's episode it's clear that Bill will be out for Eric's blood, but Sookie begs him not to kill Eric. I think it's going to take a lot of convincing from Sookie to stop him from granting Eric the "true death".
Sookie also has more problems than Eric and Bill to deal with on tonight's episode of True Blood. Jason was rescued by Jessica and Hoyt and seemed on the road to recovery (complete with dreams about sleeping with Jessica), but with the full moon upon him he's worried he might change. Sookie will have to go searching for Jason as he disappears under the full moon.
Arlene and Terry, meanwhile, still have to deal with the suspicious activities in their house and their potentially creepy baby. When we saw them in last week's episode a fire had started in their bedroom. Tonight they'll have to cope with the consequences of that suspicious fire.
Tara heads back to her girlfriend to try and explain herself and her lies while Lafayette and Jesus try to harness some power in Mexico. Debbie will encourage Alcide to join the new werewolf community in town while Marnie will continue to connect with the spirits from the past.
Below are two sneak peeks for tonight's all new episode of True Blood.