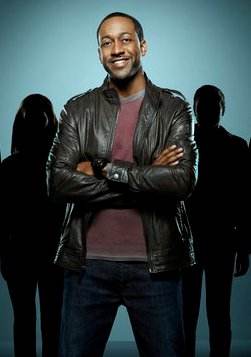 Tonight Syfy premieres a super-fun new competition series that comedically exploits its contestants' fears and bravery. Total Blackout, hosted by multi-talent Jaleel White, forces players to identify objects and substances using every sense other than sight. Jaleel kindly agreed last week to be interviewed about his new show (via phone) while strolling the midday sidewalks of NYC. Right off the bat it was clear his current priorities are to pursue the unexpected and to stay connected to comedy, two aspects that led him to hosting Total Blackout.
"We knew it was going to be funny." He happily confided, "Still, one of the things that most attracted me to the project is that it's a departure from what people expect from me. It was definitely a new skill set I had to pick up." Continuing, "A huge component in me coming aboard is that I think people will just naturally watch the show. This is pure guinea pig TV at it's best, man. It's hysterical. You turn this show on at the end of your day and you just crack up because people are going to make you laugh in the most natural way. In Total Blackout your imagination becomes your own worst enemy, and that's where the comedy comes from. One person might get freaked out by the fact they just touched a snake while the next person completely freaks out over a pineapple because they think it's something worse. You'll see surprise bravery from people you wouldn't expect, like, a muscle-y guy will freak out and then an older woman will just breeze through the same challenges."
Time's as big a factor as courage, since the contestant completing three challenge rounds fastest takes home the five thousand dollar prize. The clock came up when I asked if any players have panicked bad enough to need an ambulance? "None of the contestants have freaked out to the point of needing medical attention, but, there is a psychiatrist on set and thank God for editing. Some of the contestants have stalled for long amounts of time and we needed to be patient. One person took 20 minutes just to get in the room," White shared. "Once the doors open and they're told to enter the room they suddenly become the person who wants to skip the roller coaster after getting to the front of the line."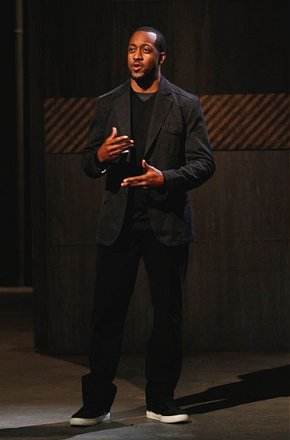 You might wonder if the contestants are psychologically screened before attempting the game? "Yes." Jaleel confirmed, "They definitely check out all the contestants. They psychologically profile them trying to make sure they'll be able to withstand the challenges we give them. But when you see the Total Blackout game played live or filmed on stage, really, there's nothing but laughter everywhere."
When asked to opine on why Syfy specifically sought him out to host the new show Mega Shark, somewhat surprisingly, got name-dropped. "I'm pretty sure I ended up on Syfy's radar because I starred in a movie that I didn't even want to do called Mega Shark Versus Crocosaurus (2010). But my manager was adamant that people needed to see me in uniform. Fortunately, it performed very well on Syfy. Next thing I was asked to come in and screen test and be the host for this new show. This is the first game show I've ever hosted so I am way outside my comfort zone but I'm having fun with it. I hope people don't forget that I got a funny bone."
Can you guess what Jaleel's "biggest fear" is? "I don't like possums," he confessed. "My mom used to make me take out the trash late at night if I'd forgotten to do it during the day and you'd run into these suckers and they hiss at you. For a kid, it's just a memory I'll never forget." Laughingly admitting, "Wendy Williams recently got me real good, I was doing her show and she brought a possum out at the end of our interview."
As a fashionable man about town and current face of Paul Stuart, Jaleel's confidently hopeful Total Blackout will become a Syfy mainstay. "I've seen some of the older, other (international) versions and it's amazing how well the game translates from country to country. Now we just have to see how people take to the show here."
Don't miss the hilarity when Jaleel White kicks off Total Blackout, America's first "no-lights" game show, tonight on Syfy at 10/9c.