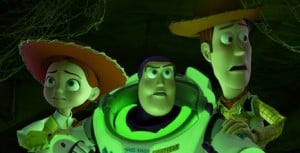 I love Pixar. Who doesn't love Pixar? So last night's Toy Story of Terror was the best thing that could have happened to TV. Really, it was!  Toy Story of Terror was a stand alone, Halloween themed cartoon starring those lovable toys from the Toy Story movie series. Do you remember being a kid, and being in LOVE with the Great Pumpkin Charlie Brown? Remember the feelings that cartoon summoned in you? That is EXACTLY the feeling viewers had when they walked away from this wonderful ABC special.
Toy Story of Terror is about the gang from Toy Story, now with their new owner from part 3, Bonnie, to go to Bonnie's Grandmother's house. They watch an old horror movie, they get a flat, and next thing you know, they are staying at a scary old hotel. This is when things took a turn for the meta. It was like the toys were AWARE they changed film genres, and were scared to see what it had in store for them. I won't ruin any of the surprises, but this was an expertly written special that did not fall flat of the high expectations we have for all Pixar series. I also want to mention, Mr. Pricklepants is my new favorite character from a cartoon. Ever. If you know me, you know how lofty that is. And if that isn't enough for you, Carl Weathers is in it.
Ding, for the win.
Toy Story of Terror had some fun scares, some very meta writing, and that Pixar charm we all know and love. Matter of fact, that was one of the best holiday cartoons I have ever seen. Yes, it was THAT good.  How the heck Toy Story gets better and better, I will never know, but I think we can all admit, it does, and Toy Story of Terror proved that fact.