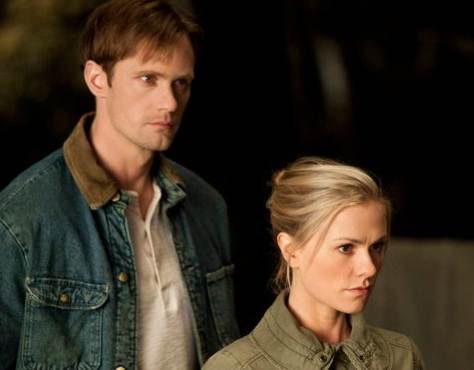 True Blood's fourth season is winding down. Only two more episodes until the season is finished. The show has already been renewed for a fifth season, however, and will return again next summer.
In the meantime, the most recent episode of True Blood saw a continuation of the vampire/witch war, although both sides experienced a few changes. After Eric attacked Bill while under Marnie's spell, Sookie managed to let loose some power that broke the spell and caused him to regain his memory, which means Pam is thrilled her maker is whole once more. But there's a lot of conflict between Bill and Nan on how to handle the witch threat, with Bill firmly on the "blow up the Moongoddess Emporium and kill everyone – including Marnie – inside" side.
Meanwhile, after losing control of Eric, Marnie returned back to the store, where Tara and the other members of the coven were still trapped. When Antonia expressed doubt about continuing on their current path (because of the human blood spilled during the most recent attack), Marnie convinced her that they could accomplish their goal and kill the vampires. Jason teamed up with Sookie, Lafayette and Jesus to rescue those inside the store before Bill could bomb it. But everything went to hell when Tara and Holly managed to escape the store, only to have the two women, along with Sookie, Jesus, Lafayette and Marnie herself disappear while in a force field, leaving Jason alone in the street.
Tommy, unfortunately, didn't survive the beating by Marcus and his pack members. Alcide had tried to get him to a hospital, but the two met up with Sam along the way and Tommy asked his brother to let him die. Now Sam's on a rampage to dole out justice to Marcus.
The episode ended with Bill, Eric, Jessica and Pam ready to blow the Moongoddess Emporium to kingdom come.
In the September 4 episode of True Blood, Sookie once against summons her faerie powers in order to stop Marnie from bewitching Eric, Bill, and Pam into committing suicide. Jesus casts his own spell to try and un-bind Antonia from Marie. Sam will finally face Marcus while Alcide confronts Debbie about her allegiances.
Below is a promo for the September 4 episode of True Blood.