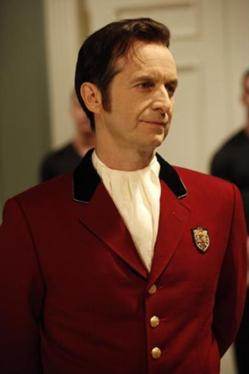 As much as I loved the tripping vampires on parade sequence from yesterday's True Blood, I'm still left wondering if Russell is harboring a secret plan. I sure hope so. The little glimpse of spiritually intoxicated glee was fun to watch, but it all somehow made Russell seem less, uh, Russell to me. Then again, Denis O'Hare played Russell's overtures to Lilith with a sort of invisible wink–or maybe that was just my wishful thinking.
Definitely Lilith's appearance in True Blood would no doubt be a huge game changer. As we've seen, belief in the will of Lilith has fueled two very different visions of Vampires amongst mankind. One just happens to be more in tune with what Russell believed prior to being buried in concrete.
So far this plot-line has been very reflective of 'real' politics, particularly in the way that religion can often co-opt its way into the decision making process. Perhaps Russell's appearance on the scene has something in common with that reflection. Maybe Russell is the force of evil co-opting religion as a means to gain power; and maybe Lilith isn't even Lilith. Here's my thinking:
Demonstrations of Speed
Russell demonstrated his Vampire agility many times last night, once even hanging Eric from a pillar in the process. This informs the very real fact that Russell could have easily swapped out Lilith's blood for something else. Also, if there is a substance that gives Vampires the 'V' high that humans get, Russell would probably know about it since he is much older than many of the other Vampires in existence.
Who Can Afford a War?
Unless True Blood is going to conclude on the big screen with a big budget film, HBO is unlikely to front for an epic war between mankind and Vampires. A general retreat of Vampires at best, or a foiled attempt to instigate such a war would be more likely.
The Werewolf Connection
JD's admission that a Vampire friend had told him a war between the vamps and humans, complete with a pack supply of Vampire blood, has Russell's fingerprints all over it. The largest collaboration between Werewolves and Vampires we've seen on True Blood was when Russell was still king. That also means that Russell knows exactly what the incarnation of Lilith is going to be calling for.
Conclusion
So, for any of this to be true we would have to assume as well that Lilith is either a fraud, a hallucination, or a not-vampire. It is entirely possible that the Lilith of Vampire lore was never a Vampire herself, but a clever changeling who had figured out a way, with the added effect of spiritual mumbo jumbo, to get the blood suckers to follow her as their messiah. It is equally possible that Russell is working with a faux Lilith the same way human Religious hoaxers have used mentalism in the past to prey on the spiritually naive.
Regardless of how it turns out, Russell is too entertaining as an independently minded mad man to simply become the shot caller of whatever post-Authority Vampire leadership may evolve in the True Blood universe. Here's hoping he has something BIG planned.