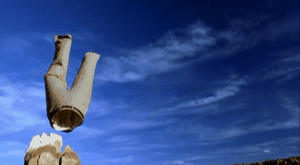 Make the connection yet? Some very observant folks on Twitter caught a very interesting easter egg in this Sunday's episode of Breaking Bad. As Walt is rolling his barrel through the desert like a dung beetle, he passes by his old pair of pants in the desert. You know, the ones he lost in the pilot episode, resulting in him standing on the road in his underwear?
Given the fact that he's nearby where they cooked all that time ago, it's not too farfetched to imagine this could have actually happened. Further interesting is that it's also a reference to the poem which "Ozymandias" is based on. Here it is in case you skipped AP English:
I met a traveller from an antique land
Who said: `Two vast and trunkless legs of stone
Stand in the desert. Near them, on the sand,
Half sunk, a shattered visage lies, whose frown,
And wrinkled lip, and sneer of cold command,
Tell that its sculptor well those passions read
Which yet survive, stamped on these lifeless things,
The hand that mocked them and the heart that fed.
And on the pedestal these words appear –
"My name is Ozymandias, king of kings:
Look on my works, ye Mighty, and despair!"
Nothing beside remains. Round the decay
Of that colossal wreck, boundless and bare
The lone and level sands stretch far away.'
I bolded the relevant part, but it's all worth reading. I've loved this poem for years, and is the only one I've ever memorized.
Anyway, it's just another example of just how good Breaking Bad is with its details. I wonder what else we'll see in the final two episodes.