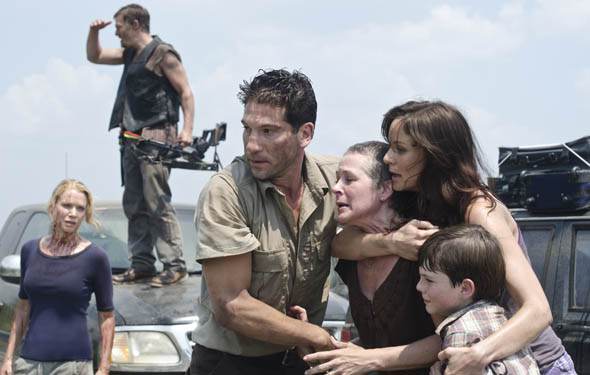 The first episode of The Walking Dead season 2 has been titled. AMC has posted the title of the premiere episode on their website: not surprisingly, it's titled "Miles Behind Us."
I say it's unsurprising because it follows the trend set up by the first season. The season one premiere, "Days Gone Bye," took its title from the name of the first trade paperback volume of the comics. Miles Behind Us is the title of the second volume.
I like the titling choice, myself, and I'd be interested to see if the trend continues. Given that season two will cover more ground than the first season, it'd be no surprise to me if a later season two episode is titled "Safety Behind Bars," which is — you guessed it — the title of the third volume.
AMC also posted an image from the episode, featuring Shane and Lori holding a clearly bereaved Carol and Carl. Does Judith's daughter Sophia fall victim to the zombie walkers? That's my best guess.
The Walking Dead season 2 will premiere on October 16 with the episode "Miles Behind Us" on AMC.