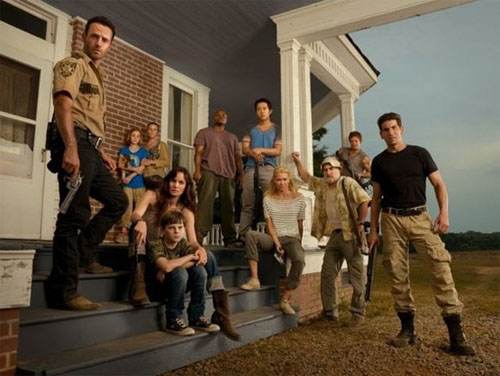 The Walking Dead hasn't lost a major character throughout its second season — and, it might be argued, throughout its whole run. Fans of the comic know that deaths (and lots of them) are coming, but so far, we haven't really seen any. Sure, the series killed off the sort-of major character Amy in last year's "Vatos," and a bunch of the minor survivors have been offed since then. You might argue that little Sophia's finally-revealed death at the end of "Pretty Much Dead Already" counts as a major death. I don't.
But it appears that another main character might be written off the show sometime in season two. Spoilers follow, naturally, but it appears that Jon Bernthal's character Shane might just be leaving the show by the time the series wraps up its second season.
Bernthal is reportedly in talks to star in Frank Darabont's new series L.A. Noir. Darabont, who brought The Walking Dead to television last year before being fired by AMC earlier this year, is developing the new drama with TNT and is reportedly in early stages of nabbing Bernthal as the lead in the period drama. And you know what that means — Bernthal is back on the market.
It seems likely that Bernthal will be leaving. The situation on the set of the series is reportedly toxic for the actors involved. There's also the fact that Shane's been looking down the metaphoric gun barrel for a long time — his character was killed off in the comic book series long ago, and the television character is simply living on borrowed time. With tensions between him and Rick reaching an all-time high, it seems more than likely that Shane won't last for very much longer (probably the season 2 finale).
What do you think? Is Bernthal leaving for greener pastures, or am I barking up the wrong tree? Let me know in the comments section.
The Walking Dead returns February 12 with the midseason premiere "Nebraska" on AMC.