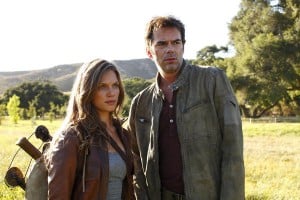 The 2012 Emmys are in the rear view and the fall TV season has officially begun, meaning lots of new shows and returning favorites vying for accolades, and of course viewers. Any potential Best Drama or Best Comedy nominees for the 2013 Emmys?  Let's take a took at what's on TV tonight:
The 8PM block is highly competitive tonight with new episodes of How I Met Your Mother, the premiere of Dancing With the Stars: All-Stars  (Preview here), The Voice, and Bones.  CBS's new series Partners will premiere at 8:30pm.  On cable we have the premiere of Basketball Wives:L.A. and a brand new Alphas on Syfy. The Voice has been dominating its time-slot, but the return of Barney Stinson and Dancing With the Stars is sure to shake up the ratings landscape.
9PM has premieres of 2 Broke Girls followed by Mike & Molly on CBS, with The Voice and Dancing With the Stars continuing for another hour.  FOX will try again with The Mob Doctor.  Cable competition will pick up with Major Crimes on TNT, The Real Housewives of New York City and Warehouse 13 all airing new episodes.
At 10PM the battle goes back to the big three networks as Hawaii Five-0 returns for its third season, Castle for its fifth (Clips here), and NBC looks to continue the success of Revolution with the new episode "Chained Heat" (preview here).
What are you watching?