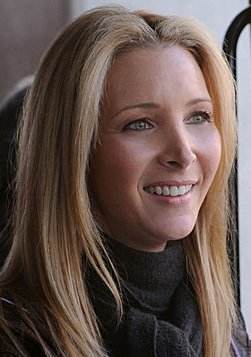 Last week award-winning actress and producer Lisa Kudrow answered questions about the reality series she fought to bring to America, upcoming episodes, and Season Three of Who Do You Think You Are? On tonight's emotional season opener screen legend Martin Sheen travels eastward to investigate the Estevez branch of his family tree. Kudrow shared, "In Spain Martin finds out more than he ever knew about his father's brother who was the only Estevez sibling who didn't leave the country. He was actually stuck there. He got caught up in Franco's coup and actually tried to put it down very early on, he was imprisoned many times for that. Martin related because, you know, he's an activist and he's been jailed a couple times for that."
Intrigued by history as a subject, Lisa quickly took to the show's concept when first encountering it overseas, "I saw Who Do You Think You Are? on BBC when I was in Ireland and thought it was the most riveting thing I'd ever seen. I thought it was a fascinating and great way to deliver history on such a personal level. When you personalize it, it takes on a whole new meaning." In 2010, on the US version's third episode, Lisa underwent her own journey of discovery which sadly led to the site of her great-grandmother's murder as a victim of the Holocaust.
Often asked how that journey changed her, Kudrow revealed, "It's made a difference in certain psychological ways. I usually like to avoid unpleasant things, especially emotionally unpleasant, and that's not a great way to go through life. When I did my show, with such difficult information to hear, I had to just stay with it, you know, just be there." Personalizing history can, indeed, prove emotionally challenging. "You put yourself in their situation and you're walking the same road they walked before they were all murdered, and,… at one point I remember when they said, "and it's right up here," I actually stopped. My instinct was to stop and not take one more step. But it was good to push on, and to understand that the good news is that this is not happening to me – and that now there's a witness for it." Continuing, "It's bigger than me. It's beyond (just) me having this experience. Genealogy is important because so much gets lost once a family moves their roots. There's a lot that gets lost. And in a lot of cultures, or maybe it's just a human thing, there aren't a lot of stories passed down if there was tragedy or a lot of difficulty. In order to keep moving forward and coping, you'd rather not dwell on those periods of hardship and victimhood, otherwise it's hard to press on. I think that's why there's so often a lack of information that gets passed down."
You might wonder how guests are prepared for the potentially dark paths their episodes may lead down? "There's no, you know, formal conversation," Lisa said, "but most people go into it just wanting information – whatever it is. Whatever it is. And they already understand that if somewhere in their ancestry unsavory people did bad things then, you know, that's not who they are. And you can just focus on how the family turned itself around,"
Who Do You Think You Are?'s ads promise "secrets will be revealed." Lisa spilled, "They all have big reveals. Blair Underwood has a huge reveal. Reba McEntire does too, I mean, they all do. Marisa Tomei looks at her great grandfather – the story was that he was a philanderer killed by a jealous lover. So that's just how they always saw him. She goes to investigate and finds out a very different story."
Typically considered a hobby for mature adults, the truth is that interest in ancestry-genealogy among younger adults has grown remarkably in recent years. Lisa cheerily reported, "Ancestry.com recently had a sweepstakes offering the winner the chance to come out and tour the Who Do You Think You Are? offices. The winner was 26 years old. I thought that was a very nice surprise." I asked if any teen stars will be appearing on the series soon? Kudrow answered, "It's trickier to get (even) younger people involved because they're not necessarily interested yet. Usually, it's once a person has children that they become interested, usually." Adding, "I think Rashida Jones is the youngest person we've had do the show. We also have Jason Sudeikis coming up too!"
When I asked the biggest after-effect the journey has exerted on past guests Lisa confided, "It's impacted in the raising of their kids. One person used newly discovered family names as middle names for children born afterward. They've just sort of integrated it into their own family history, which it is, they just never knew it was. A lot of people do it because they want their kids to know where they came from and what the real story is." The most common reactions Lisa hears later being, "That was a lot to process" and "I'm still processing it."
What message would Kudrow like viewers to absorb from the show and its mission, "I hope what they take away is that, you know, we're pretty strong as human beings. It's almost a miracle that we're here. And the only reason we're here is because we come from strong stock. I think that should give us all a feeling of inspiration and strength that we can draw from, because it's not easy to survive this planet."
Join the trip through history with Who Do You Think You Are? and Martin Sheen as the series kicks off its poignant third season tonight at 8/7c on NBC.
~ Watch Lisa Kudrow discuss her defense of American TV audiences' intelligence in this interview clip via Hulu.