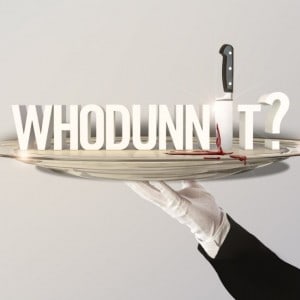 Whodunnit, the mystery reality show from ABC wrapped up its final episode of its first season last night. This, ofcourse, makes us want to talk speculate about whether or not the show should come back. As of right now we know exactly one person who watched it, and I only watched it once, but I can openly admit that there was something both odd and oddly captivating about the show. Plus, people died every episode. And you guys know I love a reality show where the usually shallow contestants die, so that, alone, was reason for me to watch and enjoy Whodunnit.
So I won't ruin who the "killer" is from season one in case you all haven't had time to watch the finale yet, but I can tell you about the one Whodunnit episode I saw, and why I think the show should come back.
Because, honestly, Whodunnit is insane. Like really insane. Like "unlike any show you have ever seen" insane.
How so?
Each episode of Whodunnit played out like the board game Clue. One contestant would die in rather insane fashion, and then all the remaining contestants would need to go to the scene of the crime (and various other spots around the crime scene) to try to figure out how the person was killed and potentially, why. Right there is a huge draw of this show. Every week, someone dies, and the deaths are insane. Catching fire. Getting shot out of an exploding hot tub. I mean, this is like Spanish Soap Opera stuff.
And the other element that really worked for me was the actual mystery. Is it contrived? Yes. Silly and over-the-top? Yes. But that is the draw. It really was like playing Clue for an hour, and just the insanity of the execution of it all is what made it so compelling. Like, cast members cry when a person is found dead. Like, you know this is fake, right? Either way, truly compelling TV.
So now the season is over and we just have to wait to see if more reality show contestants will be shot out of exploding hot tubs next year. As you can tell, I really, REALLY hope they do.