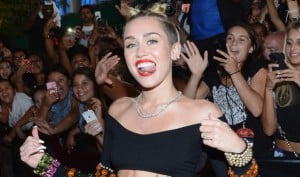 What do we even say? A site that prides itself on having its finger on the pulse of America when it comes to TV, and yet, here we are, dumbfounded and speechless. In silent awe of the worst kind, actually. As much as most award shows make us roll our eyes and sigh out loud for how awful they are, they were all magic comparatively to what unfolded last night. Last night, we all tuned in for the VMAs, and instead of an actual awards show, we were instead treated to a flaming car wreck. Oh wait, that WAS the VMAs? Wow, what happened to music?
So should I start with Lady Gaga? She opened the show, but really, did she? The song sounded broken, and all she did was three outfit changes and jump around like a fool in need of too much attention. In other words, she was typical Lady Gaga. Now we can talk about how unforgettable Kevin Hart was? Don't get me wrong, he is usually a very funny guy, but in that context (and the running gag that he wasn't hosting) just didn't work. Matter of fact, outside of calling NSync fat, nothing he said was funny.
Oh, and yes, like I stated last week, NSync had a reunion on the show during Justin Timberlake's Video Vanguard award. And, well, it was anticlimactic. They wore suits. Did a minute or so of BYE BYE BYE, and that was it. The only funny part is that half of them are fat now (not just Joey, the fat one) and seeing how out of breath they were after, it was a riot.
And Miley Cyrus? First rule about what Miley Cyrus did last night is, we never, ever speak of it again. That was just sad, truth be told.
The show ended with Katy Perry doing some weird Rocky bit to her song Roar, and it was the final push pin of embarrassment in a night that was filled with it. Note, not a single rock performance, not a single rock award, and Macklemore gets best hip hop? I want to say music is in a bad state, but after last night, I would say it is beyond a bad state.
Pretty sure it's dead in the ring from a KO.
I would say we should just leave flowers on its grave. Thanks MTV and VMAs for reminding us of everything wrong with music and pop culture right now.