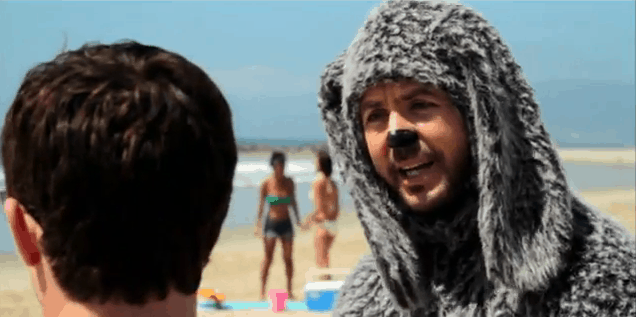 FX's freshman comedy Wilfred premiered strong on Thursday night. With twelve more scheduled episodes for the first season, it'll be interesting to see if the show can keep going (signs point to yes). FX has released a promo for the new episode, titled "Trust," that features Ryan (Elijah Wood) taking Wilfred (Jason Gann) to the beach — despite the fact that dogs aren't allowed on the beach.
Article: FX's Wilfred Gets Rashida Jones
Some pedestrians are agitated by Wilfred's presence, but none more so than a young lady to whom Wilfred brings a dead pelican. "This was a pelican!" he shouts excitedly. And that's what I love about this show the most: it attempts to rationalize the zany antics that all dog lovers are familiar with. Maybe, if we're lucky, we'll get some scenes of Wilfred talking about just how racist no-dogs-on-the-beach laws are.
The promo doesn't seem to be showing any immediate consequences to the cliffhanger from the first episode, perhaps meaning that we'll have a season-long subplot going on here.
Article: Wilfred Stars Dish About Episode Cliffhanger
Check out the promo below.
Wilfred returns Thursday night with the episode "Trust" at 10/9c on FX, followed by an all-new episode of Louie.