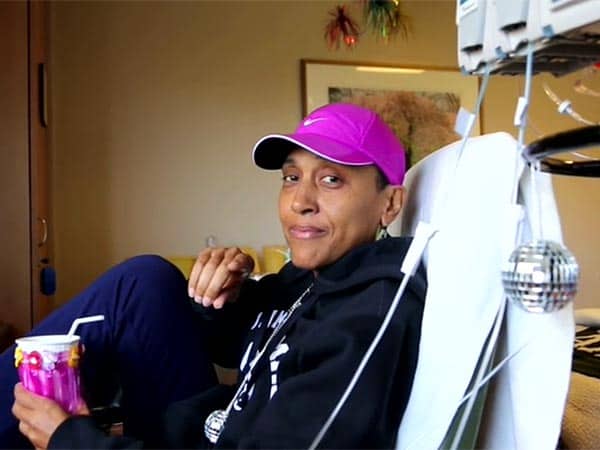 Robin Roberts has been a television face that we've all come to know and love over the years.   But as many people know, Roberts has been undergoing an extremely tough battle with cancer.  But today marks a new day.  A "birthday" if you will for the Good Morning America anchor.
The TV anchor, 51, also delivered a taped message from her New York hospital bed, which was shown on on Thursday's Good Morning America during a segment about her medical journey to treat her rare blood disorder, myelodysplastic syndrome.

Wearing a bright pink baseball cap, Roberts, who's had eight days of intense chemotherapy during her 11 days in the hospital, said: "This journey is as much about the mind as it is the body. Your thoughts … are so powerful. You've got to change the way you think in order to change the way you feel. And let me just say this lastly, I feel the love and I thank you for it. Thank you."

To see her message, click here.
From what we've read Roberts is doing extremely well in the hospital.  Her doctors have said that she's doing "fantastic."  Roberts is receiving a new bone-marrow from her sister Sally.   Roberts has received tons of fan mail and has said that her spirits are high.
We here are Overmind wish Robin a very speedy recovery on her new birthday (Many transplant recipients refer to the day of their transplant as their new birthday).  And we hope to see her on the air again very soon.