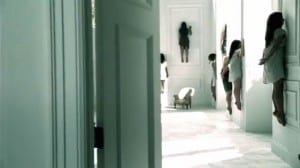 My feelings for American Horror Story go like this. I loved season one. I had never seen anything like it on TV, and though it pushed envelopes, it did so with a great and engaging story about one family's descent. The second season started strong, but all too quickly it seemed they were intent on getting in as much content as they could at the cost of the likability of the story. Now we have season three, and already, it seems the show may be getting in a bit over its head.
Though I love the cast of Coven (Precious? That's a win), you can already see they are trying to "top" themselves. I will spare you any distinct gory details, as we try to keep this site a little more family friendly than most, but trust me when I tell you, this is NOT family TV. There is stuff they show and represent on Coven that would have people blushing and/or walking out of the theater even if the movie was R, so imagine this stuff on TV and the impact it has.
That is the show's main problem, post season one. It is clear they simply want to up and ante with each American Horror Story. See if they can "out do" or "out gross" something else they did. Maybe I am old-school, but shouldn't good TV focus on the story they tell? Shouldn't they try to tell the most direct and enjoyable version of their story? Seems they are too focused on shocking people to deliver us truly engaging TV.
In season one, the shocks were an after thought to great writing. By season two, you could clearly see the story took a back seat to weekly shocks. Now, with season three, I am hoping American Horror Story can find  balance between the two. Honestly, so far, they haven't. Yet to judge them after two episodes would only make me a fool.
So stay tuned, I will be giving my thoughts on this colorful show all season.